"Ello Droogies!
It's been a few months since my last post, but I hope to do them more frequently in the future.
I'll be updating about how
Patreon is going 6 months in and what I've been doing there
, also about
updates to the Marginalized Tattoo website
, what's going on with the
Hard to Swallow Collection
and other books I've been involved with, and a special we are having at the shop for Friday the 13th.
But THIS message is to tell you about my latest shirt:
"F*** this S***"!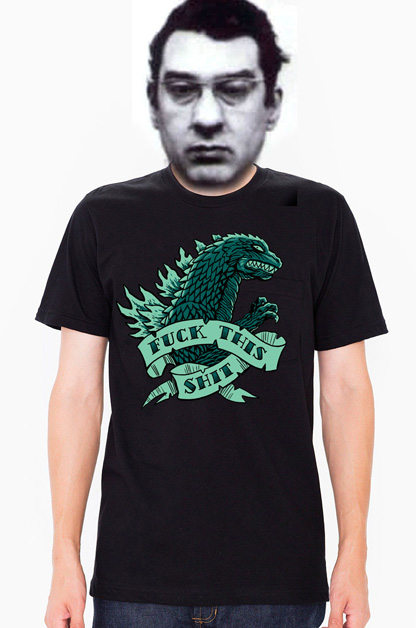 100% cotton Alternative Apparel Black Jersey T-Shirt...
with a 3 color design of some
giant mutated lizard who's having a bad day.
Design by Dave DDOG Davenport.
Screen printed locally in Los Angeles!
$20 plus shipping & sales tax
(free shipping on domestic orders 50$ and over!) $22 plus shipping & sales tax for 2xl.
Head over to
Dogspunk.com
and hit the store button or follow this
STORE link directly
to go marvel at this masterpiece of over it. BTW, my patrons on Patreon had some input when it came to details of the finished design, so blame them. Bastards.